FOUR LOCATIONS ONE EXPERIENCED TEAM
Stimulate Skin Renewal
Chemical Peels deliver active ingredients to stimulate the skin's natural renewal process and give the skin the luminosity and radiance it has been missing.
What are Chemical Peels?
Chemical peels assist in improving skin texture whilst reducing sun damage, fine lines and enlarged pores. They help bring radiance back to dull, lifeless skin and reduce the symptoms of acne, congestion, hyperpigmentation and Melasma.
They can range from superficial peels with little to no downtime, to deep dermal peels that treat conditions such as Melasma. For the price of a standard facial you could be creating a change in the skin on a cellular level.
Chemical skin peels are made from natural ingredients such as Lactic Acid or Salicylic Acid and can be used on the neck and décolletage as well as the face. For additional information, please read our
FAQ's
.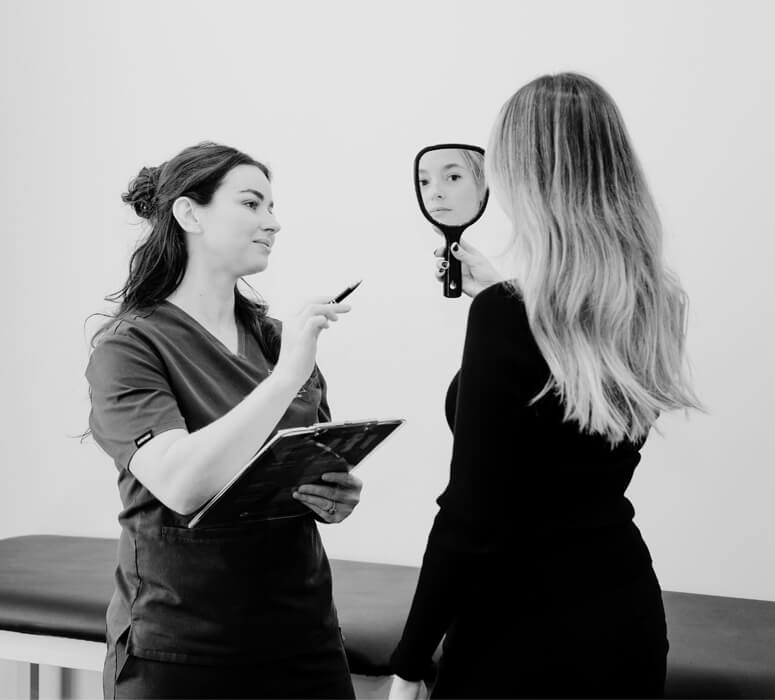 FAQs
Our chemical peels start from $150.
All patients seeking chemical peel treatment must have a consultation with our dermal technicians prior to consenting to the procedure, this can either be in-person or by video. In this consultation we will discuss your the results you're trying to achieve and your reasons for seeking this procedure. Please note that our dermal technicians are required by regulations to refuse to consent to a procedure if they believe it is not in the best interests of the patient.

If you are under the age of 18 years, please contact us directly to discuss your consultation process as it will differ to the process for adult patients.
The amount of downtime required is dependant on the condition being treated. We have around 15 types of peels to choose from. Your dermal technician will find a peel that will suit your lifestyle and the amount of downtime you can allow for. Some of our superficial style peels are considered lunch time treatments with no downtime.
The number of treatments is dependent on the skin condition. A complimentary consultation with our dermal clinicians will determine the number required. In general, we recommend 3 chemical peels in 3 months to accelerate the renewal process and then go to quarterly maintenance peels.
In general we require the skin to be well prepared beforehand, which includes reducing sun exposure prior to treatment, ensuring sunscreen is used daily and already using active skincare. The introduction of active skincare prior to treatment is to drip feed the skin so if there is a reaction it is at a low strength versus a high strength chemical peel.
Choosing between microdermabrasion and chemical peel treatments really means choosing between levels of results. A single microdermabrasion treatment will generally not deliver the same results as a medium chemical peel or a deep chemical peel.
There are 2 types of exfoliation; Mechanical and Chemical. During microdermabrasion, the skin is exfoliated using mechanical techniques such as a diamond tip or crystals. During a chemical peel, however, a chemical exfoliation works to remove the buildup of dead skin cells. This is done by breaking the bonds that hold the dead skin together.
Another point of difference between microdermabrasion and chemical peel procedures is where they are performed and who can perform them. At Plastic Surgery Queensland all of our peels are medical grade and performed by a dermal clinician or nurse.
This treatment is available at our Sunshine Coast and Noosa practices.
Interested in finding out more?
Plastic Surgery Queensland advocates the National Law and Australian Health Practitioner Regulation Agency (AHPRA) guidelines that any surgical or invasive procedure carries risks. Before proceeding, you should seek a second opinion from an appropriately qualified health practitioner.
© Copyright 10/12/2023 | All Rights Reserved | Plastic Surgery Queensland |
Sitemap
| SEO by
DMB Digital