FOUR LOCATIONS ONE EXPERIENCED TEAM
Excel LASER TECHNOLOGY
Excel V™ is the latest technology for the treatment of broken capillaries, rosacea, redness, angiomas (small red bumps), polkliderma (chronic sun damage on neck and décolletage) and sun damage, such as pigmentation.
WHAT IS LASER TREATMENT?
Vascular skin conditions or pigmentation can be a cosmetic concern for many individuals and can have a serious effect on quality of life or well being. The award-winning excel V™ delivers precision treatments to treat all cases, from deep and superficial vascular conditions to benign pigmented lesions.

The excel V™ Laser treats a wide variety of conditions and is most successful on conditions that are brown and red in origin. Conditions that can be treated include:
- Broken capillaries
- Rosacea
- Redness
- Angiomas (small red bumps)
- Pokliderma (chronic sun damage)
- Sun damage (pigmentation)

Excel V™ is an effective treatment for sun damage to the chest and neck areas.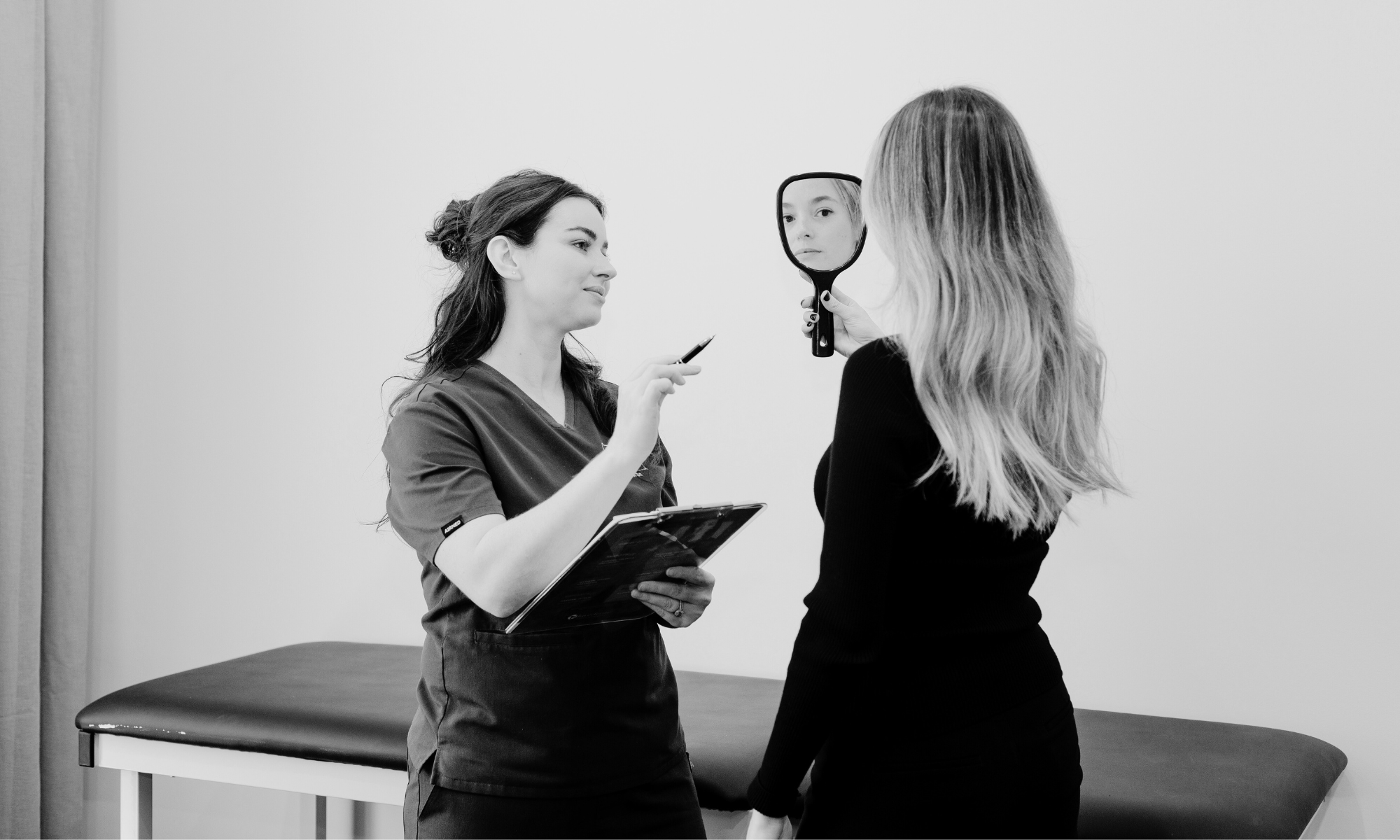 FAQs
Excel V™ procedures start from $200.
All patients seeking laser treatment must have a consultation with our dermal technician prior to consenting to the procedure, this can either be in-person or by video. In this consultation we will discuss your the results you're trying to achieve and your reasons for seeking this procedure. Please note that our dermal technician is required by regulations to refuse to consent to a procedure if they believe it is not in the best interests of the patient.

If you are under the age of 18 years, please contact us directly to discuss your consultation process as it will differ to the process for adult patients.
Depending on what is being treated, you might have redness or swelling that lasts anywhere from 1 day to 1 week, and makeup can be worn.
IPL is a common light based therapy using an Intense Pulse Light to treat skin conditions. It is a scattered light compared to a laser which is beam and more specific. It is like comparing a torch and a pen to treat a condition. Laser can be a lot more effective.
The number of treatments is dependent on the condition. Spider Angiomas can be treated in just one treatment. Vascular condition or pigmentation may require 3-6 treatments at 4 week intervals.
When considering a laser treatment you should always ensure the laser technician is licensed through QLD Radiation and Health. All dermal clinicians at Plastic Surgery Queensland are licensed through QLD Radiation and Health.
QLD Health legislation requires: "Any business that uses Class 4 lasers to deliver their service must be licensed. The person operating the equipment is also required to have a license"
"Class 3 lasers do not currently need to be licensed"
As the consumer it is important to be well informed making a decision for facial treatments. Price should not be the only determining factor.
This treatment is available at our Sunshine Coast practice.
Interested in finding out more?
Plastic Surgery Queensland advocates the National Law and Australian Health Practitioner Regulation Agency (AHPRA) guidelines that any surgical or invasive procedure carries risks. Before proceeding, you should seek a second opinion from an appropriately qualified health practitioner.
© Copyright 11/12/2023 | All Rights Reserved | Plastic Surgery Queensland |
Sitemap
| SEO by
DMB Digital