FOUR LOCATIONS ONE EXPERIENCED TEAM
Cosmelan by Mesoestetic
We are very excited to offer Cosmelan by Mesoestetic at Plastic Surgery Queensland.
WHAT IS COSMELAN BY MESOESTATIC?
Cosmelan is the most effective treatment for melasma and pigmentation that we have found on the market. Not only does it reduce pigmentation significantly, but the rejuvenation portion to this deep dermal treatment is considerable. The results show it can reduce the signs of ageing by a few years.

Cosmelan can provide significant improvement in discolouration, resulting in an even skin tone and appearance.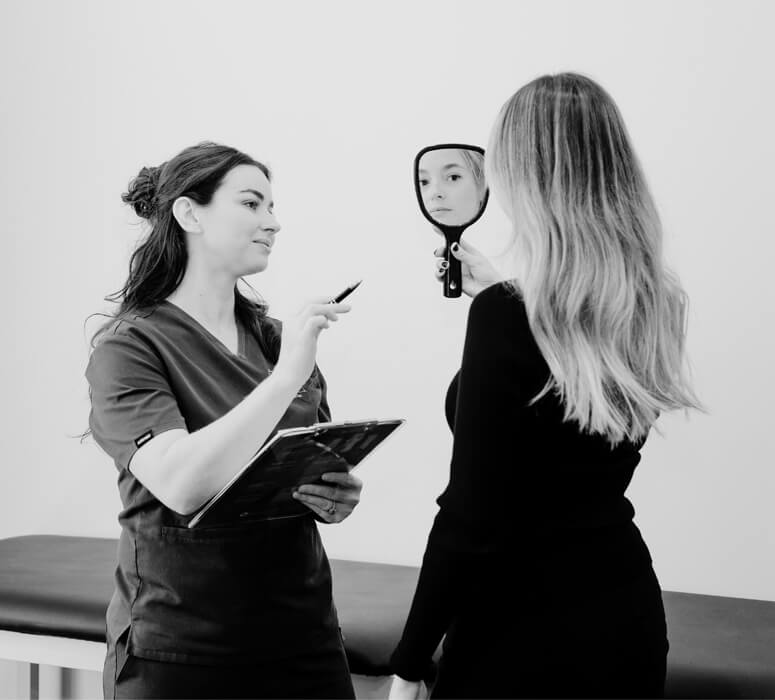 FAQs
We offer a complimentary consultation to discuss pricing and treatment options.
All patients seeking Cosmelan treatment must have a consultation with our dermal technicians prior to consenting to the procedure, this can either be in-person or by video. In this consultation we will discuss your the results you're trying to achieve and your reasons for seeking this procedure. Please note that our dermal technicians are required by regulations to refuse to consent to a procedure if they believe it is not in the best interests of the patient.

If you are under the age of 18 years, please contact us directly to discuss your consultation process as it will differ to the process for adult patients.

This treatment does come with downtime. You can expect redness and some peeling for up to 7 days post the initial treatment. It is a once-off treatment and is therefore a great option for time-poor patients. All offer complimentary follow-up appointments.
This treatment is sold as a package and includes all the required skincare to produce the result. It also includes two reviews appointments required with our dermal technicians.
Cosmelan is available at Sunshine Coast and Noosa practices.
Interested in finding out more?
Plastic Surgery Queensland advocates the National Law and Australian Health Practitioner Regulation Agency (AHPRA) guidelines that any surgical or invasive procedure carries risks. Before proceeding, you should seek a second opinion from an appropriately qualified health practitioner.
© Copyright 10/12/2023 | All Rights Reserved | Plastic Surgery Queensland |
Sitemap
| SEO by
DMB Digital