FOUR LOCATIONS ONE EXPERIENCED TEAM
Non-invasive face & neck lifting
Ultraformer therapy is a non-invasive face and neck lifting treatment by Ultraformer. 
WHAT IS ULTRAFORMER?
Ultraformer Therapy uses high intensity focused ultrasound to contour the skin without significant downtime.

Ultraformer Therapy can be used to treat the jawline, nasolabial folds, neck folds and general fine lines and wrinkles on the face.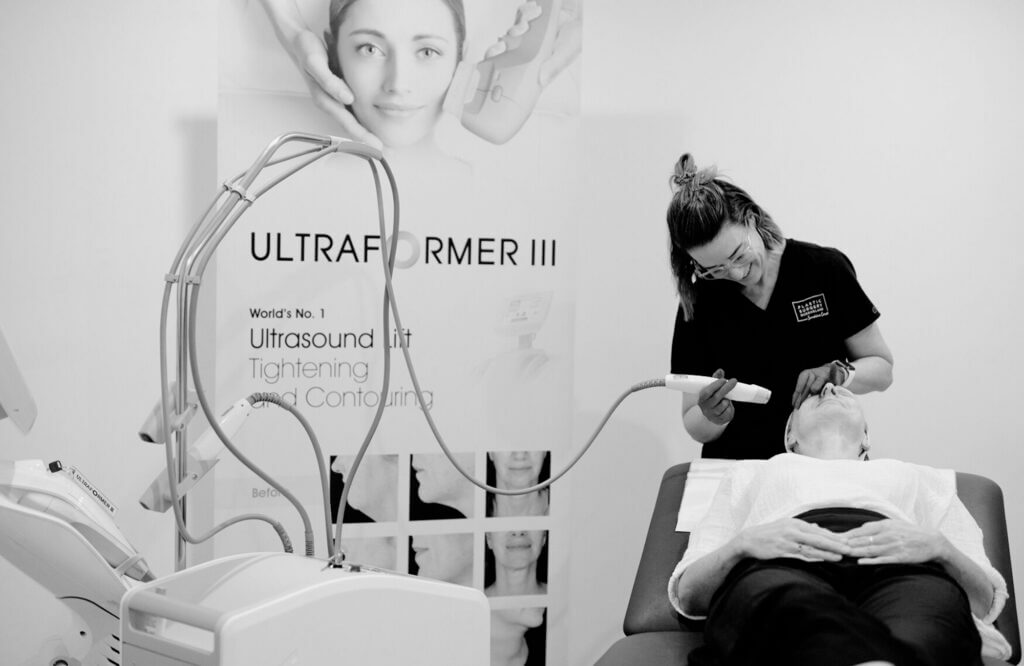 FAQs
We offer a complimentary consultation to discuss pricing and required treatments
All patients seeking Ultraformer treatment must have a consultation with our dermal technician prior to consenting to the procedure. In this consultation we will discuss your the results you're trying to achieve and your reasons for seeking this procedure. Please note that our clinicians are required by regulations to refuse to consent to a procedure if they believe it is not in the best interests of the patient.

If you are under the age of 18 years, please contact us directly to discuss your consultation process as it will differ to the process for adult patients.
Discomfort levels vary from person to person. Most patients tolerate the procedure well. Pain and discomfort associated with the procedure are temporary and usually only lasts during the procedure.
Patients may see some effect almost immediately. True results develop over time as old collagen is regenerated with new collagen. As this collagen regeneration process continues up to 6 months after the initial treatment patients see continuing improvement over time. We recommend 3 treatments 3 months apart.
Ultraformer delivers HIFU (High intensity focused ultrasound) energy below the skin. HIFU affects three layers of the superficial and dermis. As thermal energy heats this tissue, it contracts resulting in tightening of the skin and formation of new collagen, which provides a longer-term tightening effect.
The majority of patients only need two to three treatments. Improvements will be visible up to 6 months after the initial procedure. Contouring maintenance treatments could be performed in 1 year intervals, depending in the degree of lifting and tightening that needs to be addressed.
Interested in finding out more?
Plastic Surgery Queensland advocates the National Law and Australian Health Practitioner Regulation Agency (AHPRA) guidelines that any surgical or invasive procedure carries risks. Before proceeding, you should seek a second opinion from an appropriately qualified health practitioner.
© Copyright 10/12/2023 | All Rights Reserved | Plastic Surgery Queensland |
Sitemap
| SEO by
DMB Digital